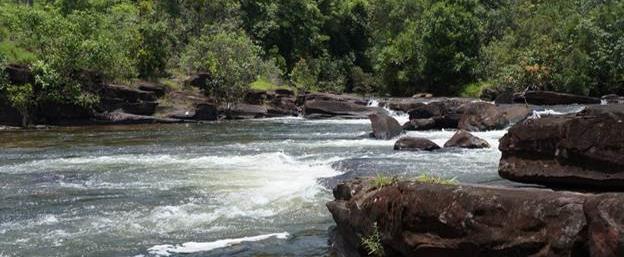 Phnom Top Cheang is a peaceful place.  Local villagers look after a community forest on the side of the mountain and sell honey from hives placed in the forest.  A waterfall attracts eco-tourists on a regular basis.
In November 2016, the members of Phnom Top Cheang community forest were busy.  Their largest ever tourist group was about to visit: 120 Cambodian adventurers organized by the camping group Camid Explorer.  The villagers divided into separate committees.  One committee looked after administration, while a second committee prepared food.  A third committee acted as tour guides, explaining the secrets of the forest and the local flora and fauna.  Luckily for the homestay committee, who had never before looked after such a big group, the tourists brought their own tents.
Morodok assisted the villagers to prepare their eco-tourism operation: organizing meetings, building cooperation with local authorities, and providing technical support.
Phnom Top Cheang has not always been the peaceful oasis it is today.  Up until 1996, the area had been controlled by the Khmer Rouge.  After putting down their weapons under a government amnesty deal, the community faced new conflicts: with armed logging groups; with a logging company cutting timber outside of their concession area; with wildlife rangers who dismantled farmers' cottages and fences in the state forest; and with a Chinese hydropower company that built a road through their farmland.
AFSC, the predecessor to Morodok, helped build understanding of peaceful conflict resolution methods, involving dialogue and cooperation with local authorities.  AFSC introduced villagers to the concept of community-based natural resources management, and helped the Preah Angkeo and Bak Angrut villages establish the Phnom Topcheang Community Forest.
By the time AFSC handed over the program to Morodok in 2011, some semblance of normalcy had returned to this conflict-ridden area.  This opened the possibility of opening the area's pristine beauty to community-based ecotourism.   The villagers' community-based eco-tourism project now has its own website ( www.cbet-ptc.org )​​.