Who we are
Morodok is a local NGO working with rural communities around Kampong Som Bay, Cambodia.  It was previously a program of an international NGO, the American Friends Service Committee (AFSC), and became an independent local NGO in 2011. See About Us.
Where we work
Morodok works in 14 communes in 5 districts around Kampong Som Bay, in Cambodia's southwest.  31,557 beneficiaries in 14 communes are served by the program.  Morodok is headquartered in Sre Ambel district, Koh Kong province.
See Map of Morodok Program Area
What we do
Morodok improves living conditions, strengthens solidarity and creates ownership for poor people in the coastal communities of Cambodia through building their capacity, supporting their initiatives and facilitating dialogue between relevant actors.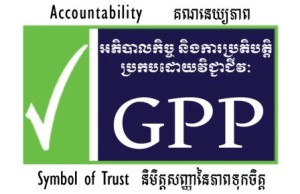 In April 2014, Morodok received 3-year NGO Governance & Professional Practice (GPP) certification, after being found to comply with the Code of Ethical Principles and Minimum Standards for NGOs in Cambodia.